Take charge of Your Career
Do you find yourself out of work and unsure what to do next? Do you want to change your career path and are unsure how to start, or even not sure about which career path to pursue next?
My clients come from a wide variety of industries; healthcare, technology, engineering, financial, legal, education, retail, and many more. Whether you are an established professional, a recent college graduate, or maybe you are not a college graduate; I can help you to create workable goals and achieve them. I have worked with clients from all over the world and am happy to work with you virtually.
Job security is a thing of the past. The driving force guiding your career must come from you. We will examine your interests, skills, experience and accomplishments to develop your personal brand. We will also look at potential barriers and plan to overcome them. Most important, you will learn the skills necessary to implement your plan. I will help you to keep moving forward toward your goal.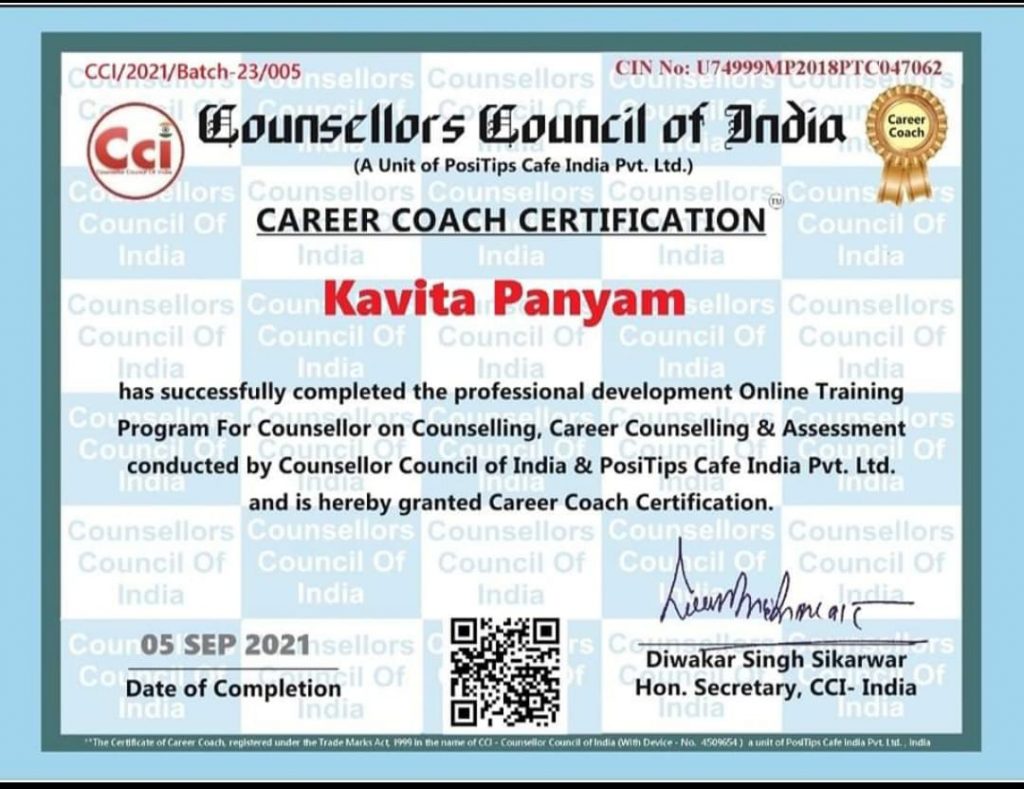 ---
Is this for me?
If you know what you want to do, but don't know how to get there.
If you are employed but thinking of beginning a career search.
If you feel that you are at a dead-end in your career.
If you are concerned about your age in today's career search.
If you need help with your resume which isn't really "selling you" to employers.
If you are concerned that your resume is not getting through Applicant Tracking Software.
If you are getting interviews, but you don't feel like you are getting anywhere.
If you are in grade 10 and unsure of which stream to choose in grade 11.
if you are in grade 12 and unsure of which subjects to choose in graduation.
If you have finished graduation and unsure about the field you have chosen.
If you are working and unsatisfied with the working conditions and your performance.
Class 8-9
Stream & Subject Selection
Discover your perfect stream, and subject combinations through a comprehensive assessment of your strengths and personalized counselling from our career coach. Gain from expert guidance and explore the right career opportunities aligned to your stream choice.
Class 10-12
Career Selection & Planning
Discover your perfect career based on your unique strengths & abilities, and get expert career counselling on your targeted career options to plan your course and college. Benefit from the exceptional support of our career counsellor and create a step-by-step plan for your career progression.
Graduates
Career Selection & Development
Discover your next career move, accurately matched to your skills, interests and career goals through our comprehensive 5-dimensional assessment, and specialized career counselling. Accelerate your career through personalized guidance and all-round support from career counsellor.
Working Professionals
If you are working and are unsure about your current Job/career, are looking to change industries/fields, our career counsellor can help you make a smooth change whilst coaching you on your core strengths and areas of interest. Personalized guidance coupled with counseling on areas that need to be worked upon, can ensure success and growth.
Fee for the above services
Psychometric testing plus personalized guidance and counseling are provided in two sittings.
Fee details…
INR 4000 for students.
INR 5000 for working professionals.
To book your slots please visit the appointments page.